Welcome to AMG Shipping
Our company's primary business is ship agency at port of Riga. But we are adding more and more service thus to provide ships with full range of service in ports the ship visits.
Why we are different?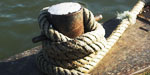 While many of the existing shipping companies still follow old-school "phone-talks" based business, modern world requires more and more flexibility. New companies with young management understand that the world becomes too small and the shipping business shall follow the rules other busines does: high effectiveness multiplied by professionalism.
And this is the way we chose: our shipping company (not forgetting the old "phone-talks" of course) offers modern innovative solutions for shipping in 21st century going always one step the others
While the world trading is growing fastly and competition is rising every day, while all the resources become more and more limited , the economical effectiveness of every smallest part of the business is the important point to win this race...
Our exclusive service
This is what we offer now
Normal agency port call service
Ship management between port calls
Bunkering with any top brand supplie at lowest prices
"No-fringe" port service for very low price